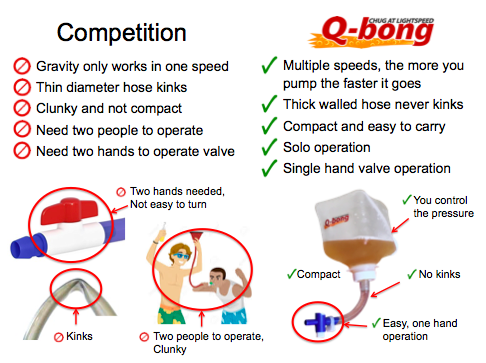 World's First Pressurized Beer Bong! Simply the Best Way to Chug!
You'll never beer bong the same way again! Q-bong's patent pending beverage delivery mechanism makes it easy to chug up to 30 ounces of your favorite beverage in a fraction of the time as compared to conventional beer funnels and bongs.
- Easy to Use and Self Operate.
- Compact, Light, and Collapsible! Perfect for a Chugger on the Go!
- HIGH POWERED: Designed to handle tons of pressure, the more you pump the faster you chug.
- 100% GUARANTEE: Money back guarantee if you're not completely satisfied.
I want one!
What Our Customers are Saying
⭐️⭐️⭐️⭐️⭐️

Love the Qbong - it's small but packs a big wallop! There's several advantages to using a Qbong; it not as messy & doesn't spill like a traditional funnel beer bong, it packs up small & is easier to carry, super easy to clean (hot water & soap) & can be used multiple ways!

Bruce Anderson
⭐️⭐️⭐️⭐️⭐️

Bought this for my husbands annual camping trip with his friends. They had a lot of fun with it. Great product! Thanks for adding to their fun.

Nicole M. Perring
⭐️⭐️⭐️⭐️⭐️

Wow! I figured this was just another beer bong - it's not. Beer surges out of this thing with unbelievable force. I'll bet a beer Elon Musk is currently evaluating this technology for his Space-X missions. Tired of taking 2, 3 or even up to 5 seconds to drink a beer? you've found the answer. ADVICE: If you plan to take your Q-Bong to a party (which you are...), get at least 2. Sorority hogged it.

Dave
⭐️⭐️⭐️⭐️⭐️

Great product. I love mine. Especially when someone can't hold the flow. Great way to get drinks down quick

jhhenson
⭐️⭐️⭐️⭐️⭐️

This q-bong is awesome and is perfect for any party. The beer goes down so fast and smooth ..I have a lot of bongs and drinking toys but this is my favorite big time

Joe M.
⭐️⭐️⭐️⭐️⭐️

This thing is great. I took it to the beach and met all kinds of ladies. Thanks Q Bong!

CA
⭐️⭐️⭐️⭐️⭐️

Do NOT stand in front of someone who is trying this for their very first time. Instead, pull out your camera and get someone else to... it's hilarious!!

Mariah S.
⭐️⭐️⭐️⭐️⭐️

This product is a fantastic new twist on the traditional beer bong. It certainly has a learning curve, but is fun once you get the hang of it. It works like a regular funnel, but doesn't require the user to suck in the liquid. Also, I would recommend doing it with someone else who can give you one or two pumps while chugging to help it go down at a consistent speed. Be careful with over two beers, though!

Alex